About Us
Directorate of Logistics is an attached office of the Indirect Taxs & Customs and consists of three Divisions namely Anti-smuggling Division, Marine Division and Communication Division. It was previously known as Directorate of Preventive Operations.The Directorate functions in close co-ordination with the Indirect Taxs & Customs, Chief Commissioners and Commissioners of Indirect Taxs & Customs including DGDRI.
Directorate of Logistics is the nodal agency to monitor the logistical requirements of field formations pertaining to Anti-smuggling, Communication and Marine. This Directorate caters to the needs of about 66 operational Customs Stations along with our international borders, 94 ports including 12 major ports and 36 international ports handling cargo and baggage besides foreign post offices and Land Customs Stations, ICDs etc. which too are vulnerable to smuggling. Thus this Directorate provides logistical support to prevent smuggling both at the land and at the sea.
In the year 1994, this Directorate was also entrusted with the work of administering of Indirect Taxs & Customs Welfare Fund, Performance Award Fund and Special Equipment Fund with a view to provide financial assistance for various schemes for the promotion of staff welfare, providing relief in natural calamities and for acquisition of Anti-smuggling equipment of specialized nature within the shortest possible time. Work relating to allocation of funds for upgradation of Ranges under 1% incentive scheme was assigned to this Directorate in the year 2007.
Now the work relating to Indirect Taxs & Customs Welfare Fund and Performance Award Fund has been entrusted to newly created Directorate General of Human Resource Development, New Delhi.
The highlights of Directorate of Logistics functions as under

(a). Anti-smuggling Division deals with the following functions:
1. Assessment of the needs of Anti-smuggling Equipment of field formations, formulations of proposals for their purchase, obtaining of
sanctions from the Ministry and acquisition, installation/ distribution of the same.
2. Monitoring of stocks of seized, confiscated and ripe for disposal goods with the Commissionerates.
3. Inspection and stock taking of anti smuggling wings of the Commissionerates/ Custom Houses
4. Maintenance of statistical data bank relating to Investigations, Adjudication, Rewards, Prosecutions, stocks and disposal of goods, for
Ministry's use and preparation of monthly Performance Indicators Bulletin.
5. Loaning of appropriated arms to the departmental officers.
6. Acquisition and deployment of Sniffer dogs.

(b). The main functions of the Marine Wing of the Directorate of Logistics are as follows:
1. Rendering technical support to maritime Commissionerates.
2. Undertake Central procurement and supply of technical and general sea stores through Central Stores Yard, Mumbai.
3. Overall supervision and control over the three workshops for repair of the vessels.
4. Examining proposals for appropriation/ condemnation of vessels received from maritime Commissionerates.
5. Maintaining statistical data pertaining to crafts and crew.
6. Recruitment of trained and disciplined technical personnel for operating vessels, workshops and CSY.

(c). The main functions of the Communication Division are as follows:
1. To plan and formulate wireless communicating proposals for Customs Preventive Commissionerates and obtaining sanctions from the
Ministry for acquisition of wireless equipment.
2. Distribution of wireless equipment amongst the Commissionerates.
3. Monitoring the wireless equipment amongst the Commissionerates.
4. Preparation of consolidated monthly wireless traffic report on the basis of Commissionerate's monthly traffic reports.
5. Monitoring the operational status of wireless networks in the Commissionerates.
6. Providing support for the maintenance and repair of wireless equipment in the Commissionerates.
7. Inspection of wireless wings in the Commissionerates.
8. Co-ordination with Regional Command Security Committees under Ministry of Defence in the matters related to breaches of communication
security.
9. Co-ordination with the Ministry of Communication for obtaining new licenses and renewal of existing licenses for the operation of wireless
stations in the Commissionerates.
10. Planning and management of Group 'A', 'B' and 'C' telecommunication personnel.
11. Cadre control of Group 'B' telecommunication Supdts.
12. Dealing with the court matters related to telecommunication staff.
13. Training of telecommunication staff
Special Equipment Fund
Special Equipment Fund (SEF) was created in 1985 to acquire specialized anti-smuggling equipment in the shortest possible time. Every year 5% of the sale proceeds of confiscated goods credited to the Government and Customs/ Excise duties, fines & penalties in offence cases are credited to SEF.The SEF is administered by a Governing Body under Chairman, CBEC. Commissioner, Directorate of Logistics is the Member Secretary.
This fund has been used to procure Specialised anti-smuggling equipment. Proposals received from the Commissionerates/ Directorates are processed and submitted to the Governing Body for sanction after which Commissioner, DOL issues cheques. Since SEF is a public account, it does not lapse every financial year. One of the items procured recently out of this fund are four High Energy X-Ray Baggage Systems with tunnel size of 180 cm x 180 cm and with extended motorized roller for installation at TFC Chakan-da-Bagh and Salamabad along the line of control in J&K. These systems are big enough to scan large gunny sacks imported at these places.
Container Scanners
With growing international trade, examination of cargo by Customs officers is becoming increasingly difficult. This problem is being addressed by (a) Selective examination using a Risk Management System (RMS); and (b) Through Non-Intrusive Inspection (NII) of cargo using Container Scanner. This not only helps to detect the entry of restricted and prohibited goods into the country but also facilitates speedy clearance of genuine cargo. One Mobile Gamma Ray Scanner and one Fixed X-ray Scanner were installed in 2004 and 2005 at JNPT Port, Nhava Sheva. Both are working satisfactorily.
The Directorate has placed purchase orders for 4 more Fixed X-ray Scanners for installation at Mumbai, Chennai, Tuticorin and Kandla Ports and 3 more Mobile Gamma Ray Scanners for installation at Chennai, Tuticorin and Kandla Ports. These container scanners are likely to be installed by 2013-14.
Based on containerized import / export traffic projections, requirement of additional Container Scanners at other ports is being finalised. Apart from this, the proposals for installation of one Drive through Scanner at a major port and rail scanners at the gateway ports are also under consideration. The Drive through Scanner has a throughput about ten times the throughput of fixed scanners whereas by installing rail scanners at gateway ports, Containers moving by rail to any ICD can be scanned and the image saved on a server & subsequently viewed by the examiner at the ICD
Procurement of new Customs Marine Vessels:
The Directorate has modernized the Customs Marine Fleet by acquiring new 109 high speed sophisticated Customs Marine vessels. These vessels are of state of art technology. The supply of these vessels commenced in the year 2008 and completed in May 2012. These vessels have been allocated & deployed at various ports/ riverines under jurisdictional Commissionerates. The old marine fleet (comprising of vessels acquired during 1974-95 out of which a large number were appropriated & confiscated vessels) which outlived their life and not seaworthy have been phased out. This new fleet comprises of 24 Customs Patrol Vessels, 22 Customs Interceptor Crafts and 63 Customs Patrol Tenders
Other Anti-smuggling Equipments:
1. The Anti-smuggling Equipment such as X-Ray Baggage Systems (XBIS), High Energy X-Ray Cargo Pallet Scanners (HEXS), Explosive and
Narcotic Detectors, Door Frame Metal Detectors (DFMD), Hand Held Metal Detectors (HHMD), Hand Held Search Lights (HHSL), Binocular
Devices etc. have been provided to all Customs and Customs Preventive formations functional under CBEC
2. 164 X-Ray Systems of Conventional Energy have been installed at various Airports, ACC, LCS, FPO etc. The Four High Energy X-Ray Pallet
Systems are being procured by the Directorate which are to be installed at TFC Chakan-da-Bagh and Salamabad. Both these conventional
energy and high energy systems function on basic multi-energy technology. Apart from systems with multi-energy technology, one X-Ray
system with Back-Scattered technology at Attari Rail as pilot project has also been procured and installed. The advantage of this system is
that it can detect organic materials such as Narcotics, Explosive and Fake Currency better than other systems
3. The XBIS and HEXS installed in all Customs field formations has been provided with comprehensive centralized maintenance cover
4. Besides above, 20 locations have been provided Video Conferencing Systems operating on ISDN Circuit hired from MTNL/BSNL. These
systems are installed at the offices of Chief Commissioners/Director Generals. 06 more VCSs have been installed in the Board office
1% Incremental Revenue Scheme:
With a view to encouraging greater effort at garnering revenues to the Government, a scheme under which an amount equal to 1% of the incremental revenue has been earmarked as incentive provision for enhancing the organizational efficiency, infrastructure and wherewithal has been introduced by the Government in 2006-07 vide Department of Expenditure O.M. No. 7(3)-Coord/2006 dated 22nd July 2006 for revenue generating/earning/ collecting Ministries/ Departments.
The Department works out the details of relevant schemes based on the principle of enhanced provisions for augmenting operational efficiency arising out of the incremental revenues earned beyond the budget targets.
For implementation of the 1% Incremental Revenue scheme, two Committees have been constituted by the Board for formulating proposals for utilization of funds under the scheme. The first Committee is headed by DG (HRD) and comprises Commissioner (Coord.), Commissioner (Anti-Smuggling), ADG (I & W), Commissioner (Logistics), F.A. or his nominee, and one representative each from Directorate of Systems, DG, NACEN, Pr. CCA, CBEC as special invitee. The second Committee comprises three Director Generals, namely, DG (CEI), DG (RI), and DG (HRD). Commissioner (Logistics) is the Nodal officer for implementation of 1% Incremental Revenue scheme.
Schemes/proposals for utilization of funds under the scheme are formulated on the basis of the following broad guidelines suggested by IFU:
° Schemes should be formulated for improving the permanent infrastructure or assets and intended towards long-term benefits of the
Department.
° Schemes which are basically consumption oriented and recurring in nature should be avoided.
Proposals/suggestions received from field formations are scrutinized as per the above broad guidelines at the level of Commissioner (Logistics). The proposals found in conformity of the broad guidelines for formulating the proposals are placed for consideration of the Board through the two Committees, constituted for utilization of funds available under the scheme. Proposals approved by the Board are submitted to IFU for obtaining sanction of the competent authority
The details of money entitled to the Department as incentive under 1% Incremental Revenue scheme for exceeding the budgetary targets is given below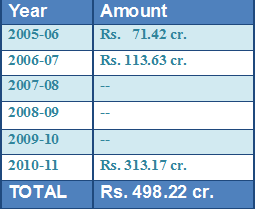 Out of Rs. 498.22 crore, a sum of Rs.129.61 crore has been sanctioned/ utilized so far for the following purposes
(i) Modernization/ improvement of infrastructure in Indirect Taxs, Customs and Service Tax Ranges.;
(ii) Capacity building and modernization of Library at NACEN, Faridabad.
(iii) Management courses for senior IRS officers at IIMs.
(iv) Capacity building of PAOs offices.
(v) Providing laptops to Group-A officers of the Department and for important functions like audit, legal, preventive, anti-evasion etc. in the field
formations for improvement/ monitoring of tax collection, investigation and intelligence work.
(vi) Hiring of vehicles for increasing organizational efficiency and outdoor preventive activities.
(vii) Reimbursement of mobile phone charges to officers working in the field so as to remain in touch with senior officers at Headquarters.
(viii) Providing better facilities for Driver's room/ Control rooms, Group-D staff and remotely located Customs formations.
(ix) Purchase of a mini bus for RTI, Chennai.
(x) Renovation/furnishing of mini hall for use as Auditorium at RTI, Mumbai.
(xi) Training of Group-D staff of Customs Commissionerate, Lucknow.
(xii) Rain harvesting System at Indirect Taxs, Cochin.
(xiii) Solar powered street lighting system in departmental colony at Nasik.
(xiv) LCD TVs, Heavy duty Scanners/ Photocopiers, Solar Geysers, etc.
In the year 2011-12, the Board has given 'in principle' approval for the following proposals, which were having twin objectives of improving tax administration and staff welfare
1. Provision of Laptops to all Group-B (Gazetted) and identified Group-C officials
2. Motorcycles for Inspectors
3. Augmentation of fleet of operational vehicles
4. Development of Guest House and transit accommodation in Chennai
5. The Resource Centre cum Library (RCCL) at NACEN, Regional RCCL at RTI, TRU RCCL at TRU (CBEC) & Field RCCLs at 34 Chief
Commissionerates
6. Mid-career training programmes for IRS (C & CE) officers
7. Air-conditioning of Divisional and Range offices
8. Camp office at residence of JC and above officers (Project leader: Commissioner Customs (Import & General), Delhi)
These proposals are being processed for implementation in 2012-13.
Highlights:
Revamping of Telecommunication System: Board has also given in-principle approval for revamping of telecommunication system in the Department on the line of "TARANG" scheme in Income Tax Department. Under revamping of Telecommunication set up, in 'Closed Users Group' pattern, attractive and additional facilities like more telephone lines in offices and at residences, mobile connections, Broadband connections, Data cards and Blackberry phones are proposed. The proposed revamping of Telecom System is expected to be implemented in 2012-13 and expenditure will be met from O.E. The proposed scheme is revenue neutral.
Other Projects:
This Directorate has submitted the following proposals to Ministry for consideration.
1) Setting up a special canine detection establishment for detection of narcotics, fake currencies and hazardous material / ammunition.
ii) Setting up of physical and weapon training institute for the executive officers and staff of Customs.
iii) Providing Carat meters and Radio Isotopes Identifiers to the field formations.